Data Science and Business Intelligence both are essential parts of a business and can work together to enhance the results. Business Intelligence analyses past or current trends and patterns from structured data to gain information on business performances. Data Science is a multidisciplinary field that deals with both, structured and unstructured, data to predict future trends for businesses. In the debate of Business Intelligence vs Data Science, Data Science is a bigger field that is used in multiple domains, unlike Business Intelligence which business users only use
If you want to learn more about Data Science and Business Intelligence and figure out which field is more suitable for you, attend this
In this article, we will discuss in brief the difference between Business Intelligence and Data Science, tools and software used, job responsibilities, and career scope for both fields.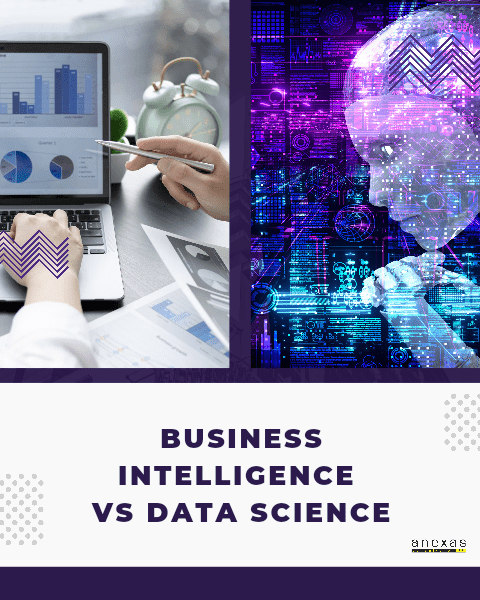 Difference between Data Science and Business Intelligence
The main difference between Business Intelligence and Data Science is that Business Intelligence is a descriptive analysis that works on past and current data for information whereas Data Science is a predictive analysis that works on all data sets to determine future trends in a business.
What is Data Science?
Data Science draws information from data using machine learning and analytical tools, aiming for a forecast for business decisions. Data Science is a multidisciplinary field that uses different techniques at different levels to achieve the desired results. The overall process involves data collection, data mining, data processing, data analytics, and data visualization.
How does Data Science work?
As we discussed the process involved in Data Science, Data Science is an important part of any business using data for its growth. Data Science uses statistical algorithms and predictive models to turn data into information for decision-making. The main motive is to predict future trends.
Career in data science
Data Science careers are very dynamic, with all major industries requiring data science professionals. There are many data science jobs available with high demand and less available competency, resulting in enhanced job opportunities with higher salary benefits and the power to choose any industry. Anyone can start their career in data science as many options are available from degree to diploma to certificate courses.
Responsibilities in Data Science
A few key responsibilities of a data science professional are
Gathering and transforming data into information.
Making predictive models forecast the future.
Using Machine learning and other tools to process the data.
Generating questions for the businesses.
Performing analysis of data to find answers.
Using concepts of visualizations to present the findings.
What is Business Intelligence?
Business Intelligence, as opposed to data science, uses data to take action for business decisions. It uses past events and current trends in a business to determine the actions needed for business improvement. Business analysts and business users act on business intelligence through data processing and analysis, aiming to find areas for improvement.
How does Business intelligence work?
Business Intelligence works only in business domains. It has different roles like building dash, arranging data, and extracting insights to help in business decisions. The motive is to improve the speed and efficiency of the business while also improving the effect through end results. Automation and visualization help a lot in business intelligence.
Career in Business intelligence
Just like Data Science, even Business Intelligence is high in demand all around the world. According to a report on Glassdoor in 2021, A business intelligence analyst made an average salary of $84,635. There are many positions to choose from like, BI consultant, BI architects, BI managers, BI Analysts, etc. Anyone trained in data science or relevant areas with knowledge of important tools can start their career in Business Intelligence.
Responsibilities of Business intelligence
A few key responsibilities of a business intelligence professional are
Understanding the market and increasing business engagement.
Identifying different areas of business and their strategy.
Working with clients and teams to understand business requirements.
Performing data analysis on past or current data.
Implementing new strategies based on data-based results.
Reporting BI performances.
To get a closer look at the differences between Business Intelligence and Data Science, let us make a head-to-head comparison
| | | |
| --- | --- | --- |
| Factors | Business Intelligence | Data Science |
| Definition | Work on data to take action on business decisions. | Work on data to gain information for business decisions. |
| Data | Work on structured data. | Work on both, structured and unstructured data. |
| Focus | Focuses on past and present events. | Focuses on future trends. |
| Storage | Data warehouse | Real-time clusters |
| Skills | Business understandingProblem-solving Data Analysis Data ExtractionCoding Decision-makingCommunication and presentation | Technical knowledgeStatistical analysisData visualizationMachine learningCoding Data analysis Data modelingCommunication and presentation |
| Tools | SQLTableau/PowerBIPython/RETL | SQLPython/RSASMATLABETLTableau/PowerBIHadoop |
| Analysis | Descriptive analysis | Predictive or Perspective analysis |
| Job profiles | BI Analysts BI ConsultantBI ManagerBI Architect | Data ScientistData AnalystData ArchitectData EngineerStatistician |
Which is a better career option for you? Data science or Business Intelligence
Between Data Science and Business Intelligence, It is a very clear choice as to which one to take as a career. Both work on data but Data Science is dynamic in terms of working on data, domains, technical knowledge, jobs in hand etc. Where Business Intelligence only works on business domains, business decisions, strategy for business improvement etc. Judging your skills and interest on whether you want to work on data solely or you want to focus more on business, it becomes an essay choice
Conclusion:
Data Science and Business Intelligence both work on data. Where Data Science focuses on predictive modelling for forecasting future trends, Business Intelligence focuses on descriptive analysis for judging the past and present of the business. Business Intelligence takes actions to improve the business and Data Science extract information useful for business improvement. Data Science is the larger area of work in comparison to business intelligence. Both require coding knowledge, analytical skills, visualisation skills and presentation skills. Where Data Science is used in all major domains, Business Intelligence is limited to only business domains.
Anexas offers three levels of courses; Basic, Intermediate and Advanced in Data Science and you can choose the course relevant to your knowledge
Data Science – Basic Course
Data Science – Intermediate Course
Data Science – Advanced Course
FAQS
How is Business Intelligence different from Business Analytics?
Business Intelligence and Business Analytics are two distinct fields where Business Intelligence works directly on data, and Business Analytics works only on the practical implementation of the insights found from data
What is the key difference between Business Intelligence and Data Science?
Both work on data but Business Intelligence focuses on past and present events whereas Data Science focuses on future trends.
Will Data Science replace Business Intelligence?
No, even if there are similarities between Business intelligence and data science, both are very different at the core. Business Intelligence has the main objective of taking action on business improvements while Data Science is concerned with gaining information for those decisions.
Is business intelligence a part of computer science?
Yes, Data science evolved because of advancements in computer science and Business intelligence evolved due to advances in data. So it is a part of the big world of computer science
Is business intelligence a good career path?
yes, Like data science even business intelligence professionals are high in demand with all business domains requiring BI for its improvement. Even small businesses use BI to get informed insights to use in problem-solving.