Data Science and Business Analytics appear to be similar from a distant view but the disciplines of the two fields are distinctive. Where Business Analytics is based on statistics to gain business insights, Data Science is the study of data to gain insights using statistics, algorithms and technology. In the discussion of Business Analytics vs Data Science, It is evident that information gained from data science is used in Business analytics to benefit the business.
To understand more about this, I suggest you take free data science workshop for gaining in-depth knowledge on the differences and significance of both the fields.
In this article we will discuss the key differences between Business Analytics and Data Science while detailing the career scope in both fields with required disciplines.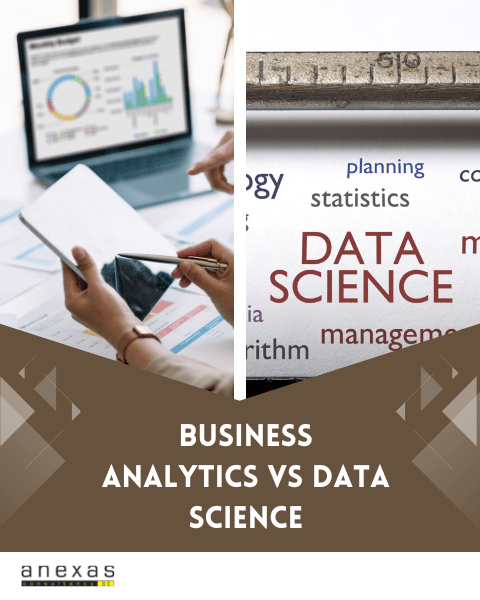 Difference between Business Analytics and Data Science
The main difference between Business Analytics and data Science is that Business Analytics is finding ways to improve businesses using statistics whereas Data Science is a process which works in combination of statistics, algorithms and technology providing information for business decisions.
What is Data Science?
Data Science is a superset of Business Analytics. It uses raw data, structured and unstructured, to gain insights that can be used in decision making. Apart from business, Data Science can be used in different industries like academic, technology etc where data-related insights are required.
What is Business analytics?
Business Analytics deals with analysing information to improve business. With data and statistics, a Business Analyst can make an informed decision in a more analytical manner. It uses structured data to analyse the business, use past data to forecast, use data visualisation to make reports on the findings.
Let us discuss the key differences between Business Analytics and Data Science in a head-to-head comparison.
| | | |
| --- | --- | --- |
| Basis of comparison | Business Analytics | Data Science |
| Definition | Statistical approach to draw insights from business data for improvement. | Statistical, technical and scientific approach to draw insights from all kinds of data. |
| Origin | In use since the 19th century, first introduced by Fredrick Winslow Taylor. | First coined in 2008 by D.J. Patil, and Jeff Hammerbacher. |
| Skills | Presentation SkillsBusiness planningOptimization techniquesAnalytical skillsPredictive modellingStorytelling | Knowledge of maths, statistics and computer science. Machine learningDeep LearningCodingprogramming |
| Data | Work with structured data. | Work with both, structured and unstructured data. |
| Area of study | Study data for patterns and trends in business scenarios. | Study data for patterns and trends in all scenarios. |
| Application | FinanceTechnologyMarketingRetail etc | EducationTechnologyResearch basedInternet based etc |
Difference between Data Scientist and Business analyst
The main difference between a Data Scientist and Business Analyst is that a Data Scientist is responsible for data manipulation by writing algorithms and programming for information, while a Business Analyst is responsible for creating reports and recommending changes for business improvement
Career scope for a Data Scientist
Data Scientist is a job essential for all industries with rising technology and use of data to improve decision and performance. Data Scientists are high in demand because of their skills of data manipulation and understanding patterns to help the company make informed decisions.
A few responsibilities of Data Scientist are
To identify important data sources and to automate data collection.
To process structured and unstructured data.
To analyse information for gaining trends and patterns.
To build predictive models and machine learning algorithms.
To combine all the models through assembling.
Career scope for a Business analyst
A Business Analyst, on the other hand, should have deep knowledge of management, business and data analysis. Similar to Data Scientists, Business Analysts are a crucial part of companies but their area is limited to business driven companies only. They should have problem- solving skills and are responsible for understanding requirements as well as improving business processes.
A few responsibilities of Business Analyst are
To analyse business in terms of problems, opportunities and solutions.
To forecast business trends based on past data.
To prepare budget, reports and tasks for business improvements.
To present reports to the stakeholders.
To plan the business and monitor the work and employees for growth.
To understand the roles in detail, take a look at the one-on-one comparison between Business Analyst and Data Scientist
| | | |
| --- | --- | --- |
| Parameters | Business Analytics | Data Science |
| Roles | Data Business AnalystOperation ManagerProject SupervisorIT AnalystProject ArchitectSolution ArchitectSenior Consultant | Data ScientistMachine Learning EngineerData AnalystData EngineerData ArchitectAI specialist |
| Tools | ExcelTableauPower BISQLPythonDashSASJIRAOracle Analytics Cloud | Python or RMatlabPandasMatplotlibNumpyTensorflowSQL Apache SparkJupyter/Spyder NotebookNatural Language Toolkit |
| Skills | Analytical ReasoningInterpretationData VisualisationStatistical SkillsCommunication | Statistical AnalysisMachine learningLinear AlgebraComputer ScienceProgramming |
| Challenges | Limitation of toolRepetitive monitoring Budget limitation | Costly operationsLack of clarity on problems. Findings might be unwanted. |
| Future trends | Cognitive and tax Analysis | Machine learning and Artificial Intelligence. |
Which is a better career option for you? Data Science or Business Analytics
Data Science and Business Analytics both play a crucial part in finding correct problems to solve and to improve businesses according to this information. Both the job profiles are in-demand, provide higher salaries and are reputed positions. It depends on your background and career interest on which field to explore. Hopefully, this data-driven article will help you make an informed decision.
If you are interested to know more about Data Science and Business Analytics, take a free session where you can also clear your doubts
If you are already clear with your career choice or you are a professional working in the industry, I suggest you take the Basic, Intermediate or Advanced course in data science.
Data Science – Basic Course
Data Science – Intermediate Course
Data Science – Advance Course
Conclusion
In the end, we can conclude that Data Science and Business Analytics both are essential areas which help the businesses make informed decisions and solve business problems. Where Data Science uses coding, programming and statistics to draw information and Business Analytics use mainly statistics to analyse the information for business decisions. Taking a career in any of these fields requires a set of skills, software knowledge and analytics approach to comprehend the decisions.
FAQS
Can a Business Analyst become a data Scientist?
Yes, A Business Analyst can become a Data Scientist but it will require additional training in areas such as machine learning, linear algebra, programming languages etc. They would also require project practices to start their career in Data Science.
Which is better, Data Science or Business Analytics?
Data Science is more technical where Business Analytics is a more statical field. Business analytics work in business industries whereas Data Science is required in all industries. It depends on individual skills and choices as both are in demand.
Are Data Scientists and Business Analysts same?
No. Data Scientist and Business Analyst are different. Business Analysts focus on business models, where Data Scientists focus on data to drive information for the business.
Why is business Analytics not data science?
Business Analytics is statistical study of business to gain insights, whilst Data Science uses statistics, algorithms and technology to study data for business.
Is coding required for Business Analytics?
No, Coding is not necessary for business analytics. However, knowledge of statistical softwares is essential such as Excel, SAS etc.
Who is paid more, Business Analyst or Data Scientist?
The data keeps changing as Business Analytics and Data Science both are growing faster but typically Business Analysts earn more than Data Scientists.
Do Business Analysts use algorithms?
No, Business Analysts who focus on business improvements are not expected to write algorithms. However they are familiar with visualisation tools such as Tableaus, Power BI and Google Data Studio for reporting their findings.
Also read: Data Science vs Computer Science